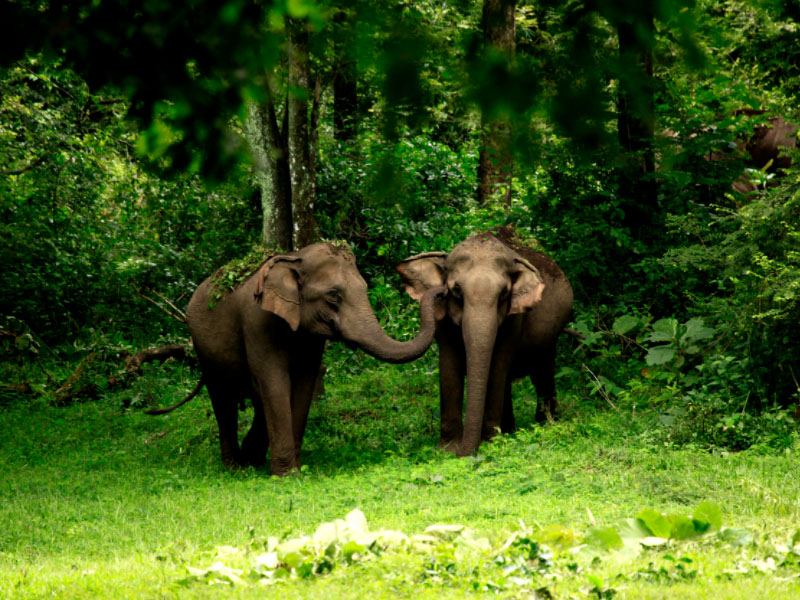 Explore Vythiri with one of the finest resorts in Wayanad, Kerala. The lovely spacious Swiss Chalet-style resort has feel-at-home living spaces where you can enjoy superb holidays with your entire family and friends. Vythiri is virtually a paradise with virgin rainforests, a cool climate, and hill-top views.
Nature and Peace : Morickap Resort, perched on a hilltop is embraced in a cool, misty atmosphere of a typical rainforest. Vythiri brings you close to nature charmingly and pleasantly. The weather is not freezing but a pleasant cool all the time.
What it feels:  The resort is anything but ordinary as its 34 rooms are designed to pamper you with plush interiors. You can enjoy the best dining experience at the resort's multi-flavor dining restaurant that serves delectable delicacies from Kerala including seafood as well as your favorite continental and Mughlai dishes.
Dive In: Morickap has one of the largest pools in Wayanad. This is a wonderful place for exercise, having a cool and pleasant time just lingering in the pool or lounging beside it on a reclining chair enjoying your favorite drink and the spicy snacks.
High up in style: Spending your holidays at Morickap means enjoying every single minute of it with activity and fun. The activity center and Kids' play area keep the kids busy and happy. The restorative treatments at the Spa and the ayurvedic massages keep your wife happy and youthful.
Above the rest: Morickap Resort redefines luxury in true 5-star style with spiced up amenities and facilities. Set at a uniquely scenic locale high about the ordinary at 3,500 ft above sea level on the Western Ghat mountain ranges, you can view virgin rainforests, tea-coffee-spices plantations, and distant valley views with winding rivers.
Inspiring the rest:  Morickap Resort's Swiss chalet-inspired architecture blends imperceptiblywith the surrounding Coffee plantation all around. Now you can set off on hiking trips, off-roading on country roads and mountain slopes, encounter clueless wildlife with your camera zoom and click the best pictures of your life of the majestic mountains, the lakes, and forest waterfalls.